2016 NOIR CITY 14 PRESS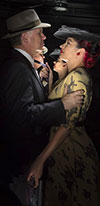 Meet Ms. NOIR CITY 14, Aja De Coudreaux
"Artist's model and Oakland resident Aja De Coudreaux will be the 11th Ms. NOIR CITY, a title given to the glamorous women who grace the festival posters each year and introduce films during the festival....Sometimes your art can turn against you, so we chatted with De Coudreaux along with the 'Czar of Noir,' Film Noir Foundation President Eddie Muller about the Ms. NOIR CITY dames." READ MORE.
Argentinian Noir, Restored Thanks to an HFPA Grant, Shines
at NOIR CITY Festival
"The North American premiere of the restored [Los tallos amargos] took place in a sold out gala performance at the historic Castro Theater, a 1400 seat 1920's movie palace." READ MORE.
NOIR CITY 14: The Dark Corner and The Two Mrs. Carrolls
"[T]his year had some truly unusual and unique offerings for the noir aficionados and for the uninitiated alike." READ MORE.
Interview with Eddie Muller
"NOIR CITY is our City. On the eve of his annual festival, a conversation with 'Noirchaeologist' Eddie Muller." READ MORE.
SEE ALSO Humoresque (Jan 24) , The Public Eye (Jan 22)
Catching Up with the Czar of Noir at Café du Nord
Thomas Downs interviews Eddie Muller at the Café du Nord to discuss NOIR CITY 14 and more. READ MORE.
Dark Arts at the Castro Continues
"The 14th annual Noir City film festival concludes at the Castro Theatre this week with excellent, rarely seen movies set in several worlds, including nightclubs, which provide classic noir venues. " READ MORE.
SEE ALSO The Dark Arts at the Castro Theatre (Jan 28)
Through a Lens Darkly…
"In lieu of the usual lineup of doomed mugs and molls, Muller has compiled a rogue's galleryŚnay, an entire wing of the Metropolitan Museum of Melancholic MiseryŚof angst- and anguish-plagued artists and writers and their muses, tormentors, patrons, exploiters and lovers." READ MORE.
Gettin' Drunk With: Eddie Muller, the Czar of Noir
Peter Lawrence Kane interviews Eddie Muller at the Ha Ra Club in San Francisco's Tenderloin. READ MORE.
NOIR CITY 14: 25 Films Examining the Tortured Artist
",,,An adventurous program of films that have what NOIR CITY producer, host and co-programmer Eddie Muller calls 'trace elements of noir'. For example, a zowie double feature on Tuesday, Jan. 26, with the 1945 version of Oscar Wilde's The Picture of Dorian Gray, featuring an astounding exercise in narcissism by Hurd Hatfield, paired with the rarely seen Corridor of Mirrors..." READ MORE.
NOIR CITY 14: Artists and Models
"Noir City's 2016 incarnation takes a tough-guy look at the artist as antihero. " READ MORE.
NOIR CITY 1 - 13 SCREENINGS

→ View our complete list of films screened at NOIR CITY 1-14 here.
2015 NOIR CITY 13
Movie lovers from around the globe had a grand time at the 13th annual edition of NOIR CITY: The San Francisco Film Noir Festival, held January 16–25, 2015. READ MORE.
2014 NOIR CITY 12
The 12th edition of the world's most popular film noir festival went international, exploding the long-held belief that noir stories and style are a specifically American phenomenon. READ MORE.
2013 NOIR CITY 11
NOIR CITY's 11th year festival kicked off with a tribute to guest of honor Peggy Cummins, legendary for her ferocious performance as outlaw Annie Laurie Starr in Gun Crazy. READ MORE.
2012 NOIR CITY X
NOIR CITY celebrated its tenth anniversary as the world's most popular film noir festival with a 10-day extravaganza featuring San Francisco treats, a Dashiell Hammett marathon, freshly preserved 35mm rarities, by-popular-demand encore screenings, and super special guest star ANGIE DICKINSON. READ MORE.
2011 NOIR CITY 9
NOIR CITY 9 audiences proved to be noir-nuts, packing the Castro Theatre for ten days and nights of wonderfully entertaining craziness. Loyal customers saw the ultimate payoff from their patronage: three brand new 35mm prints funded by the Film Noir Foundation: High Wall (1947), Loophole (1954), and The Hunted (1948). READ MORE.
2010 NOIR CITY 8
The 2010 NOIR CITY 8 at San Francisco's Castro Theatre broke its previous record for attendance. Many of the regular patrons declared that the 2010 edition of the world's most popular film noir festival had the best "vibe" yet, as hundreds of loyal Bay Area attendees mixed with an amazing influx of out-of-state and international fans, in town for the festival's duration. READ MORE.
2009 NOIR CITY 7
The theme of the NOIR CITY 7 running from January 23 through February 1, 2009, was Newspaper Noir, with many of the films set in the world of newspapers, publishing or radio. Programmers Eddie Muller and Anita Monga made a special effort to have NOIR CITY's nightly double bills reflect the traditional programming of theaters in the 1940s. READ MORE.
2008 NOIR CITY 6
Neither the brutally inclement weather, nor the traffic-stopping logistics of having Gus van Sant and (NC4 special guest) Sean P enn shooting a film right outside the theater could deter record crowds from packing the Castro Theatre during the 10-day festival spanning January 25 – February 3, 2008. Go here to read about the highlights of the NOIR CITY 6 including press links and photos..
2007 NOIR CITY 5
Held January 26 through February 4, 2007, NOIR CITY 5 saw more than 11,000 people attending the ten-day series at the Castro Theatre, establishing a new box office milestone for the festival. Go here to view NOIR CITY 5 photo and media coverage.

Surround yourself in a miasma of social media darkness: join us on Facebook, Tumblr and Twitter for a complete immersion in the world of film noir through film stills, posters, film clips, brilliant insights, and more.