NOIR CITY returns to its home at the historic Castro Theatre, January 26–February 4, 2018, for its 16th edition. Tickets for individual NOIR CITY 16 double-features are now available Brown Paper Tickets.
Skip the lines. Get a Price Break. Buy a NOIR CITY 16 Passport.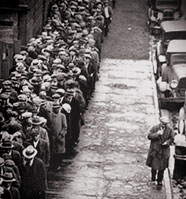 Secure your spot at NOIR CITY 16 with an all-access NOIR CITY PASSPORT. It grants the bearer entry to all 24 films in this year's program. Because the separate passport holders' queue allows early admittance to the theatre, you'll be able to grab a prime seat at all the shows—even on opening night.
And if that's not enough, there's also the opening-night reception on the Castro Mezzanine beginning at 6:00 p.m., exclusively for passport holders. All this for the incredible price of $120 (a savings of $30 over individually purchased tickets for all 24 films!). The NOIR CITY Passport also makes the perfect holiday gift for the film lover in your life! Best of all, proceeds from the festival help fund the FNF's restoration and preservation efforts year-round. This is your chance to have a smashing time AND preserve a valuable art form. BUY YOURS TODAY!

The Castro Theatre can be reached by the Muni Metro K, L and M lines,
as well as the F-Market Streetcar, and the #24, #33, #35, and #37 bus lines.



BART riders can transfer to the Muni Metro from the following stops: Embarcadero, Montgomery, Powell and Civic Center.

Surround yourself in a miasma of social media darkness: join us on Facebook, Tumblr and Twitter for a complete immersion in the world of film noir through film stills, posters, film clips, brilliant insights and more.