The Film Noir Foundation Presents
NOIR CITY 19 • March 24-27 • Grand Lake Theatre
Let's try this again! The NOIR CITY film festival, a Bay Area cultural institution since 2003, returns from COVID hiatus March 24-27, 2022 for an incisive and inspiring four-day festival at a new venue, Oakland's historic Grand Lake Theatre. Produced, programmed and hosted by Eddie Muller, this year's edition, subtitled "They Tried to Warn Us!", showcases 12 movies from mid-20th century Hollywood sure to resonate with contemporary viewers.
"Film noir is revered for its incredible sass and style," Muller says, "but many of the films were also warning flares about issues that still plague our culture more than seventy years later."
Included are shockingly prescient films focusing on megalomaniacal politicians, corrupt businessmen, neo-Nazis, racism, anti-Semitism, sexual predators, serial killers, police brutality—even a viral epidemic! This NOIR CITY program could not be more timely or topical. "That said, this isn't like taking your medicine," Muller notes. "It will be a restorative tonic for folks eager to see classic movies again on a big screen and enjoy, with the prescribed protocols*, a return to the party atmosphere NOIR CITY is famous for."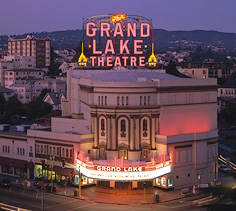 For the return to in-person screenings, Muller—host of the popular Noir Alley franchise on Turner Classic Movies—has shifted the event to Oakland after many years at San Francisco's Castro Theatre. "The Grand Lake provided Noir Alley with a temporary studio during the pandemic," Muller says, "and I realized its vintage movie palace atmosphere, and the care and upkeep of the venue, would work perfectly for the type of show NOIR CITY loyalists have come to expect. Plus, I love Oakland. It hurts that the town has lost the Warriors and the Raiders, so I'm happy to give a little something back to the city's cultural life." As is the tradition at NOIR CITY, fans can expect plenty of onscreen surprises, noir-inspired activities, and special guest appearances!
TICKET INFO
Weeknight shows will be presented as double bills, with one $15 admission price for two movies. Saturday and Sunday shows will have separate admissions ($12.50) for each screening. ✽Proof of vaccination required. Mask protocol enforced.
NOIR CITY 19 PASSPORT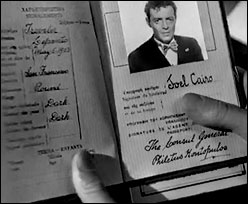 Secure your spot for the 12 festival films with an all-access passport for $100—a $30 savings! The Grand Lake Theatre will have a Passholders' queue for early admittance. → PURCHASE PASSPORT
All FNF proceeds from festival ticket sales aid the Foundation's mission of rescuing and restoring noir films. This is your chance to have a terrific time AND preserve a valuable art form.
Passports are non-transferable. All sales are final. Patrons must arrive 30 minutes before showtime to be guaranteed a seat!
All you need to know about the NOIR CITY Film Festival ↓