NOIR CITY Xmas 2022 • Dec 13 • Grand Lake Theatre
Join host Eddie Muller on Tuesday, December 13, 7:30 p.m., at Oakland's historic Grand Lake Theatre for the return of NOIR CITY XMAS! The Film Noir Foundation presents Mickey Spillane's I, the Jury in 3-D to darken your yuletide spirit. The 1953 black & white film, featuring cinematography by the legendary John Alton, was recently restored by UCLA Film & Television Archive and stars Biff Elliot, Peggie Castle, and Preston Foster.
The evening will also feature the unveiling of the program (and poster!) for NOIR CITY 20, the 20th anniversary of the world's most popular film noir festival, coming to the Grand Lake Theatre January 20 - 29, 2023.
The Grand Lake Theatre's COVID protocol requires that the staff is masked and vaccinated, with protective shields at their workstations and that all guests must be masked when entering, exiting, or at their seats when not drinking or eating. Guests are not required to be vaccinated.
Tickets for NOIR CITY Xmas are now available online for $15 from Brown Paper Tickets and can also be purchased at the theatre box office on the day of the show. Doors will open at 6:30 p.m. 3-D glasses will be provided!
2022 NOIR CITY 19 • Grand Lake Theatre
The NOIR CITY film festival, a Bay Area cultural institution since 2003, returned from COVID hiatus March 24-27, 2022 for an incisive and inspiring four-day festival at a new venue, Oakland's historic Grand Lake Theatre. Produced, programmed and hosted by Eddie Muller, the 2022 edition, subtitled "They Tried to Warn Us!", showcased 12 movies from mid-20th century Hollywood sure to resonate with contemporary viewers.
"Film noir is revered for its incredible sass and style," Muller says, "but many of the films were also warning flares about issues that still plague our culture more than seventy years later."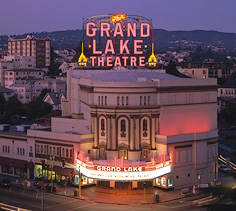 For the return to in-person screenings, Muller—host of the popular Noir Alley franchise on Turner Classic Movies—shifted the event to Oakland after many years at San Francisco's Castro Theatre. "The Grand Lake provided Noir Alley with a temporary studio during the pandemic," Muller says, "and I realized its vintage movie palace atmosphere, and the care and upkeep of the venue, would work perfectly for the type of show NOIR CITY loyalists have come to expect. Plus, I love Oakland. It hurts that the town has lost the Warriors and the Raiders, so I'm happy to give a little something back to the city's cultural life."
s
All you need to know about the NOIR CITY Film Festival ↓