JAN 20-29, 2023
NOIR CITY 20 Celebrates Its Emerald Anniversary
NOIR CITY, the most popular film noir festival in the world, celebrates its 20th anniversary in the Bay Area with a ten-day extravaganza featuring 24 films from the heart of Hollywood's noir movement, 1948. Every film on the schedule is celebrating its 75th anniversary, with several of the movies having never before been screened at NOIR CITY. Join Film Noir Foundation founder and Turner Classic Movies host Eddie Muller and a slew of special guests for a swanky, sexy, and sinister excursion back in time.
With the ongoing turmoil over the future of San Francisco's Castro Theatre, the festival's home for most of its existence, Muller opted to move NOIR CITY across the bay to Oakland, a decision that proved successful last spring when the Grand Lake Theatre was filled with appreciative fans for an abbreviated 4-night version of NOIR CITY 19.
"The Grand Lake may be smaller in capacity than the Castro," said Muller, "but it's a jewel of a movie palace, and it intends to remain a movie house—so it's a great fit for what we do—which is to offer a contemporary equivalent of the classic movie-going experience for a new generation of fans."
CURRENT GRAND LAKE THEATRE HEALTH PROTOCOL: Wearing an antiviral mask is optional but recommended in high-density situations such as ticket/concession/restroom lines and when an auditorium is highly occupied.
NOIR CITY 20 Program • January 20-29, 2023
Friday, Jan 20
Saturday Matinée, Jan 21
Saturday Evening, Jan 21
Sunday, Jan 22
Monday, Jan 23
Tuesday, Jan 24
Wednesday, Jan 25
Thursday, January 26
Friday, Jan 27
Saturday Matinée, Jan 28
Saturday Evening, Jan 28
Sunday, Jan 29
TICKET INFO
Purchase advance tickets through Brown Paper Tickets with any of the ticket links in the program guide above. Doors open at 6:00 p.m. for evening shows; noon for matinées.
NOIR CITY 20 PASSPORT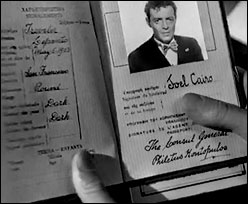 Secure your spot for the 10-day/24-film festival with an all-access pass for $200—a $40 savings over the regular ticket price! The Grand Lake Theatre will have a Passholders' queue for early admittance. → PURCHASE PASSPORT

All FNF proceeds from festival ticket sales aid the Foundation's mission of rescuing and restoring noir films. This is your chance to have a terrific time AND preserve a valuable art form.
✽ Passports are non-transferable. All sales are final. Patrons must arrive 30 minutes before showtime to be guaranteed a seat!
All you need to know about the NOIR CITY Film Festival ↓