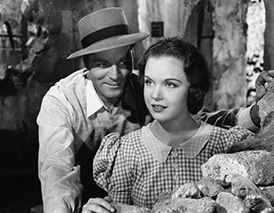 DESTINY
1:00, 4:10, 9:20 PM
Originally intended as the opening segment of Flesh and Fantasy, Universal cleaved this off and released it as a 65-minute stand-alone. A pair of robbers (Alan Curtis and Frank Craven) hide out in rural Paradise Valley, where the town folk are so pleasant and trusting, the crooks eagerly map out a plan to rob them blind. But the farmer's daughter (Gloria Jean), who really is blind, has a big surprise in store for one of the lecherous thieves. Be here when NOIR CITY screens the four chapters of Duvivier's Flesh and Fantasy—finally—as one complete program!
Archival 35mm Print––Not on DVD!
1944, Universal. 65 minutes
Scr. Roy Chanslor and Ernest Pascal, from a story by Jean Levy-Strauss. Dirs. Julien Duvivier and Reginald Le Borg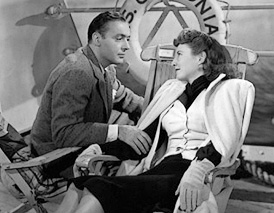 FLESH AND FANTASY
2:20, 7:30 PM
Considered one of the greatest French directors (his Pepé le Moko launched the "poetic realism" that informed film noir), Duvivier escaped the war at home by bringing his incredible style to offbeat Hollywood films of the early '40s. This anthology of three supernatural tales—a proto-Twilight Zone—features a dazzling cast (Edward G. Robinson, Barbara Stanwyck, Charles Boyer, Robert Cummings, Thomas Mitchell) and exceptional camerawork by Stanley Cortez and Paul Ivano. Presented in an original 35mm print courtesy of Universal Pictures.
1943, Universal. 94 minutes
Scr. Ernest Pascal, Samuel Hoffenstein, and Ellis St. Joseph, from stories by Oscar Wilde, László Vadnay, and Ellis St. Joseph. Dir. Julien Duvivier