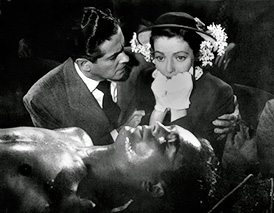 THE ACCUSED
7:30 PM
A demure college professor (Loretta Young) finds herself in jeopardy after killing an amorous student in self-defense. As the noose tightens, both the victim's guardian (Robert Cummings) and a dogged homicide detective (Wendell Corey) fall for her—being a killer apparently makes her irresistible to men. A decidedly feminine slant on a classic noir premise.
Presented in a restored 35mm print courtesy of the Library of Congress, giving new life to a neglected classic.
1949, Paramount [Library of Congress]. 101 minutes. Scr. Ketti Frings, from a novel by June Truesdell. Dir. William Dieterle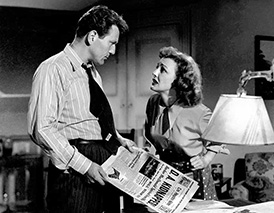 THE THREAT
9:35 PM
Charles McGraw, the toughest man in noir, runs wild as vengeful ex-con Red Kluger, who breaks out of prison to kidnap and torture everyone who's ever done him wrong. A brutal, violent thriller inventively directed by Felix Feist. Featuring Virginia Grey and Michael O'Shea.
1949, RKO [Warner Bros.] 66 minutes
Scr. Dick Irving Hyland, from a story by Hugh King. Dir. Felix Feist
Saturday, February 3 Matinée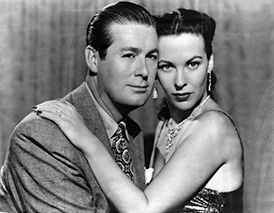 SOUTHSIDE 1-1000
1:00, 5:00 PM
This slam-bang crime yarn from the King Brothers (producers of 1950's Gun Crazy) is highlighted by shot-on-location scenes in downtown L.A., Hollywood, and San Quentin, crafted by much of the same team responsible for Gun Crazy, and directed by the man who made the influential Stranger on the Third Floor (1940). Don DeFore plays an undercover agent infiltrating a counterfeiting ring operated by sultry racket boss Andrea King.
35mm preservation funded by the Film Noir Foundation, courtesy of UCLA Film & Television Archive.
1950, Allied Artists [Warner Bros.] 73 minutes
Scr. Leo Townsend and Boris Ingster, from a story by Milton Raison and Bert C. Brown. Dir. Boris Ingster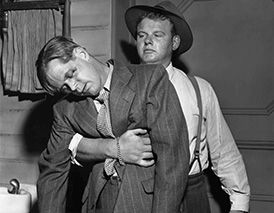 THE UNDERWORLD STORY
3:00 PM
This beat Billy Wilder's Ace in the Hole (1951) to the screen by a year, with a tale of a corrupt reporter (Dan Duryea) manipulating a small-town story for his own benefit. Dan Duryea is the disgraced reporter exiled to Gale Storm's small-town paper just in time to catch the case of an African-American maid charged with killing her socialite boss. Duryea could care less about justice—he wants to cash in on the woman's defense fund.
This 35mm preservation comes courtesy of the Film Noir Foundation and UCLA Film & Television Archive.
1950, United Artists [Warner Bros.] 91 minutes
Scr. Henry Blankfort, based on a story by Craig Rice. Dir. Cyril Endfield
PREMIERE • NEW FNF RESTORATION!
Saturday, February 3 Evening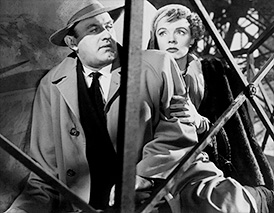 THE MAN WHO CHEATED HIMSELF
7:30 PM
A veteran San Francisco homicide cop (Lee J. Cobb) spirals into a moral morass when his married socialite lover (Jane Wyatt, in a rare fatale role) "accidentally" bumps off her husband. Instead of playing it by the book (would that be noir?), he covers up the crime, only to have his younger brother (John Dall)—a rookie homicide dick—start putting together the pieces. This James M. Cain-style thriller gets maximum impact from its San Francisco locations, including a memorable climax at Fort Point.
Presented in a brand new 35mm restoration courtesy of the Film Noir Foundation and UCLA Film & Television Archive.
1950, 20th Century-Fox. 81 minutes
Scr. Philip MacDonald and Seton I. Miller. Dir. Felix Feist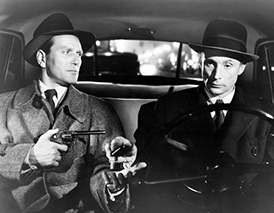 ROADBLOCK
9:20 PM
After several years playing either tenacious cops or cruel torpedoes, supporting actor Charles McGraw was elevated to leading man status by RKO boss Howard Hughes, becoming the studio's B-unit version of Bob Mitchum. Nobody could clip off tough-guy dialogue like McGraw. In this prototypical noir, he finally reveals a soft center, as an insurance investigator who goes crooked trying to satisfy an avaricious dame (Joan Dixon). An unjustly overlooked classic "B."
1951, RKO [Warner Bros.] 73 minutes
Scr. Steve Fisher and George Bricker. Dir. Harold Daniels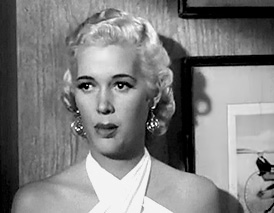 WICKED WOMAN
1:00, 4:20 PM, 8:45 PM
In this racy little "B" movie, scarlet woman Beverly Michaels (Pickup) cons saloon owner Richard Egan into bilking his boozy wife out of her dough, then toys with the affections of slavering devotée Percy Helton (as you've never seen him before). She plans on dumping both and leaving a dust trail to Mexico. Michaels was definitely director Rouse's kind of woman: they married after making this picture—an extra twist to this juicy noir. Featuring a title song that's a cult favorite!
1953, MGM Repertory [Park Circus]. 77 minutes
Scr. Clarence Greene and Russell Rouse. Dir. Russell Rouse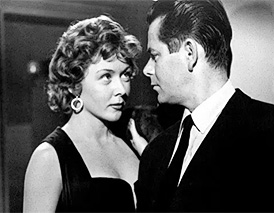 THE BIG HEAT
2:30 PM, 7:00 PM
One of Fritz Lang's best Hollywood films tells the tale of a virtuous cop (Glenn Ford) out for revenge against the gangster who killed his wife. Assisting him in his one-man crusade against the city's corrupt power base is a kooky, sexy dame (Gloria Grahame, in perhaps her signature role) who's out for a little vengeance of her own. Featuring an all-time thuggish turn by a young Lee Marvin, The Big Heat is as compact and compelling as any crime film ever made.
1953, Columbia [Sony]. 90 minutes
Scr. Sydney Boehm, from the novel by William P. McGivern. Dir. Fritz Lang