NOIR CITY 16 • Friday, January 26, 2018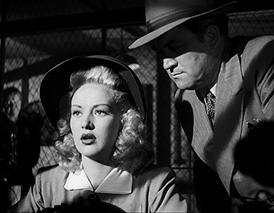 I WAKE UP SCREAMING
7:30 PM
A Broadway promoter (Victor Mature), suspected of murder, is persecuted by a vengeful cop (Laird Cregar). Can he find the real killer of his glamorous protégé (Carole Landis)? Originally released as The Hot Spot, this rarely screened early noir has all the visual flourishes soon to be synonymous with the style, courtesy of the spectacular cinematography of Edward Cronjager. Betty Grable may be the female lead, but noirheads go wild for the menacing Cregar and weaselly Elisha Cook Jr., both memorable in juicy supporting roles.
1941, 20th Century–Fox. 82 minutes
Scr. Dwight Taylor, from the novel by Steve Fisher. Dir. H. Bruce Humberstone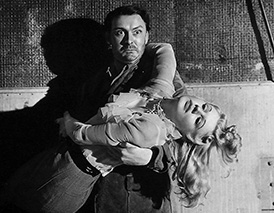 AMONG THE LIVING
9:30 PM
Industrialist Paul Raden (Albert Dekker) returns to his ancestral home to attend his father's funeral. He's shocked to learn from the family doctor (Harry Carey) that his twin brother John, whom he believed died as a boy, has been locked in the attic of the abandoned mansion, insane from a scandalous childhood trauma. Soon enough, John is loose and making up for lost time, particularly with lushly nubile Susan Hayward. Heisler's strong, swift direction of this Southern Gothic is abetted by the stunning cinematography of Renoir collaborator Theodor Sparkuhl.
Archival 35mm Print—Not on DVD!
1941, Paramount [Universal]. 67 minutes
Scr. Lester Cole and Garrett Fort. Dir. Stuart Heisler
Saturday, January 27 • Matinée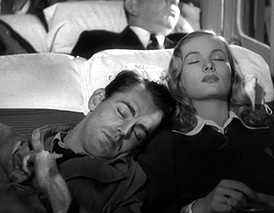 THIS GUN FOR HIRE
1:00, 5:00 PM
One of the seminal films in Hollywood's noir movement, this taut thriller made stars of Alan Ladd and Veronica Lake, who'd become Paramount's biggest box-office duo of the forties. Ladd plays lone-wolf assassin Philip Raven, who enlists Lake's aid in freeing himself from a frame-up by a secret cadre of "fifth columnists." John Seitz' camerawork presages the shadowy dread he'd bring to sunny Los Angeles in Double Indemnity. Co-starring Robert Preston, Laird Cregar, and Lake's amazing costumes, courtesy of Edith Head. A must-see!
1942, Paramount [Universal]. 81 minutes
Scr. Albert Maltz and W. R. Burnett, from the novel by Graham Greene. Dir. Frank Tuttle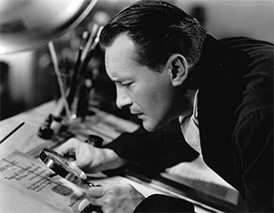 QUIET PLEASE, MURDER
3:00 PM
George Sanders is a cunning forger who teams up with femme fatale Gail Patrick to swindle gullible art patrons. His ultimate coup, to steal and replicate a priceless Shakespeare folio, turns into a crazy hostage drama when the priceless artifact ends up as a needle in a haystack—hidden somewhere in the Los Angeles Public Library! This indescribably daffy and surprisingly racy rarity is an example of the 20th Century–Fox B-unit at its very best!
Archival 35mm Print—Not on DVD!
1942, 20th Century–Fox. 70 minutes
Scr. Lawrence G. Blochman, story by John Francis Larkin. Dir. John Francis Larkin

Saturday, January 27 • Evening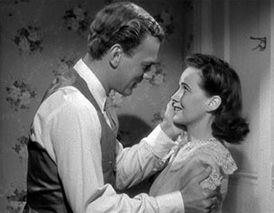 SHADOW OF A DOUBT
7:30 PM
Naïve teenager Charlie (Teresa Wright) begins to suspect her beloved Uncle Charlie (Joseph Cotten), on a vacation visiting sleepy Santa Rosa, California, of actually being the fugitive "Merry Widow" serial killer. Before David Lynch was even born, Hitchcock explored malevolent evil seeping into a banal small town. It's got few of the flashy passages the director is famous for—but thanks to Cotten's mesmerizing performance, it may be the director's ultimate expression of the horror that infects everyday life.
1943, Universal. 108 minutes
Scr. Thornton Wilder, from a story by Gordon McDonell. Dir. Alfred Hitchcock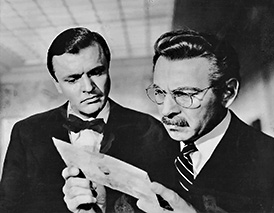 ADDRESS UNKNOWN
9:40 PM
The tale of a San Francisco art dealer who returns to Germany and falls under the spell of the Nazis was originally rendered by "Kressmann Taylor" (a woman writing as a man) as a trans-Atlantic correspondence between two increasingly estranged friends. It's brought powerfully to life through the stunning design and direction of William Cameron Menzies, and is powered by Paul Lukas' haunting performance. Not truly noir, but a revelation—few "B" movies match the impact and artistry of this WWII stunner.
1944, Columbia Pictures [Sony]. 75 minutes
Scr. Herbert Dalmas, from the short story by Kathrine Kressmann Taylor. Dir. William Cameron Menzies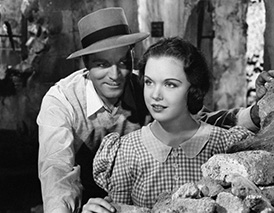 DESTINY
1:00, 4:10, 9:20 PM
Originally intended as the opening segment of Flesh and Fantasy, Universal cleaved this off and released it as a 65-minute stand-alone. A pair of robbers (Alan Curtis and Frank Craven) hide out in rural Paradise Valley, where the town folk are so pleasant and trusting, the crooks eagerly map out a plan to rob them blind. But the farmer's daughter (Gloria Jean), who really is blind, has a big surprise in store for one of the lecherous thieves. Be here when NOIR CITY screens the four chapters of Duvivier's Flesh and Fantasy—finally—as one complete program!
Archival 35mm Print––Not on DVD!
1944, Universal. 65 minutes
Scr. Roy Chanslor and Ernest Pascal, from a story by Jean Levy-Strauss. Dirs. Julien Duvivier and Reginald Le Borg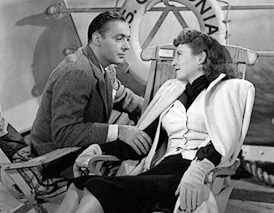 FLESH AND FANTASY
2:20, 7:30 PM
Considered one of the greatest French directors (his Pepé le Moko launched the "poetic realism" that informed film noir), Duvivier escaped the war at home by bringing his incredible style to offbeat Hollywood films of the early '40s. This anthology of three supernatural tales—a proto-Twilight Zone—features a dazzling cast (Edward G. Robinson, Barbara Stanwyck, Charles Boyer, Robert Cummings, Thomas Mitchell) and exceptional camerawork by Stanley Cortez and Paul Ivano. Presented in an original 35mm print courtesy of Universal Pictures.
1943, Universal. 94 minutes
Scr. Ernest Pascal, Samuel Hoffenstein, and Ellis St. Joseph, from stories by Oscar Wilde, László Vadnay, and Ellis St. Joseph. Dir. Julien Duvivier