SAVE THE DATE!
The full line-up for NOIR CITY 17, January 2—February 3, 2019, will be announced at NOIR CITY Xmas, December 19. Both events will take place at San Francisco's historic Castro Theatre. NOIR CITY Xmas will also feature the unveiling of the official NOIR CITY 17 poster. Plus, for your holiday shopping pleasure, NOIR CITY 17 Passports (all-access festival passes) will be available for sale at NOIR CITY Xmas — just visit the FNF's merchandise table on the Castro mezzanine! FNF founder and president Eddie Muller will be your guide through the dark alley ways of NOIR CITY.
Can't make it to the Castro that night? You will be able to see the schedule, program notes and buy tickets and Passports (full series passes) here on our website the same night!
NOIR CITY 2018 Returned Audiences to the Golden Age of Film Noir
NOIR CITY made a victorious return to its home at the historic Castro Theatre January 26–February with its largest audience yet, selling out the 1400 seat movie palace on multiple nights. "Film Noir from A to B" took audiences back in time with a program of 12 genuine "A" and "B" double bills, spanning the breadth of the original film noir era, 1941 to 1953. The festival presented 24 classic noirs as they were experienced on their original release, pairing a top-tier studio "A" with a shorter, low-budget second feature, or "B" film. All but one of the films were presented in glorious 35mm.
As always, NOIR CITY producer and FNF founder and president Eddie Muller guided attendees through the blind alleys of NOIR CITY. But he wasn't all alone. Victor Mature's daughter Victoria Mature joined the Czar of Noir on opening night to introduce H. Bruce Humberstone's I Wake Up Screaming (1941), starring her father and Betty Grable. Victoria surprised the crowd with an impromptu rendition of Street Scene while discussing the film's score. As usual the current Ms. NOIR CITY, Annabelle Zakaluk, also joined Eddie on stage during the festival's evening performances. On January 31, Michael Curtiz - A Life in Film, author and FNF board member Alan K. Rode introduced Curtiz' The Unsuspected (1947). The FNF's latest restoration "re-premiered" on Saturday night, February 3—The Man Who Cheated Himself, an independently made noir thriller from 1950 shot on location in San Francisco.
Thanks to the generosity of NOIR CITY patrons and FNF donors, the Foundation was able to fully fund the restoration of this film. Prior to the screening, festival host Muller announced the recipient of this year's $5,000 FNF/Nancy Mysel Legacy Grant—Shahed Dowlatshahi of New York University's Masters of Arts in Moving Image Archiving and Preservation program. A heart-felt acceptance video by Mr. Dowlatshahi screened for the San Francisco audience directly after the announcement.
NOIR CITY then took its show on the road with NOIR CITY satellite festivals in Denver, Hollywood, Austin, Boston, Chicago, Detroit and Washington D.C. We look forward to seeing you again next year for NOIR CITY 17, January 25—February 3, 2019, at the Castro Theatre and at our satellite fests too!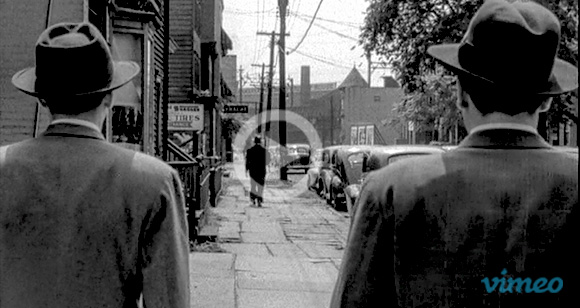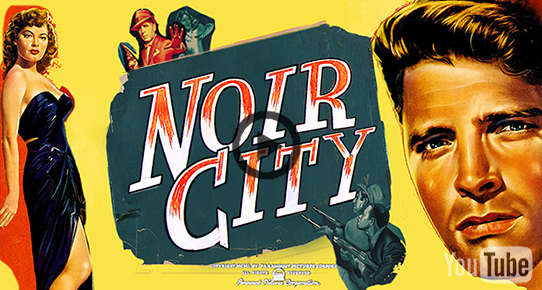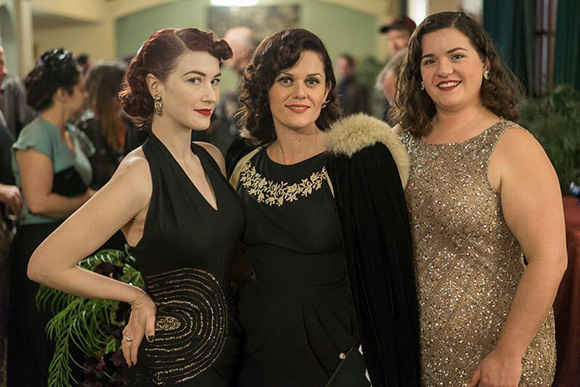 EXTRA! EXTRA! GET YOUR NOIR NEWS HERE!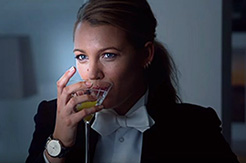 For the latest in noir news from small screen to big screen and beyond, visit our news area. We'll keep you updated on Film Noir Foundation projects and events, film festivals and noir-related happenings in other mediums on our news page, as well as noir and neo-noir titles released on dvd and Blu-ray. Our newly added Now Playing section will keep you up-to-date on noir-tinged entertainment in theatrical release or streaming. Check our monthly tv listings for noir and neo-noir films coming up on Turner Classic Movies.
FNF VIDEO ARCHIVE

Our Video Archives feature an expanding catalog of noir-related video, ranging from exclusive interviews, to festival guest appearances, to short films inspired by film noir.
LATEST ADD After a screening of Farewell My Lovely (1975), actor Jack O'Halloran discussed his life and career with producer/host Alan K. Rode at the 2018 Arthur Lyons Film Noir Festival. The former heavyweight boxing contender regaled the opening night audience with stories about co-star Robert Mitchum, his adventures in Hollywood and his colorful family lineage. WATCH

Surround yourself in a miasma of social media darkness: join us on Facebook, Tumblr and Twitter for a complete immersion in the world of film noir through film stills, posters, film clips, brilliant insights, and more. Maybe you'll meet a dangerous stranger along the way.