NOIR CITY returns to its home at the historic Castro Theatre January 26–February 4 for its 16th edition. "Film Noir from A to B" takes audiences back in time with a program of 12 genuine "A" and "B" double bills, spanning the breadth of the original film noir era, 1941 to 1953. The festival presents 24 classic noirs as they were experienced on their original release, pairing a top-tier studio "A" with a shorter, low- budget second feature, or "B" film. All but one of the films will be presented in glorious 35mm.
The FNF's latest restoration will also receive its world "re-premiere" on Saturday night, February 3—The Man Who Cheated Himself, an independently made noir thriller from 1950 shot on location in San Francisco. Thanks to the generosity of NOIR CITY patrons and FNF donors, the Foundation was able to fully fund the restoration of this film. A pair of FNF- funded 35mm preservations will screen together that afternoon as well, Southside 1-1000 and The Underworld Story.
As always, NOIR CITY producer and FNF founder and president Eddie Muller will be your guide down the blind alleys of NOIR CITY.
→ CHECK THE PROGRAM GUIDE FOR TIMES, TICKETS, AND PROGRAM NOTES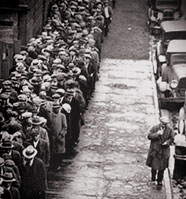 Save Money & Time with a NOIR CITY Passport
Secure your spot at NOIR CITY 16 with an all-access NOIR CITY PASSPORT. It grants the bearer entry to all 24 films in this year's program. Because the separate passport holders' queue allows early admittance to the theatre, you'll be able to grab a prime seat at all the shows—even on opening night. And if that's not enough, there's also the opening-night reception on the Castro Mezzanine beginning at 6:00 p.m., exclusively for passport holders. All this for the incredible price of $120 (a savings of $30 over individually purchased tickets for all 24 films!). The NOIR CITY Passport also makes the perfect holiday gift for the film lover in your life! Best of all, proceeds from the festival help fund the FNF's restoration and preservation efforts year-round. This is your chance to have a smashing time AND preserve a valuable art form. BUY YOURS TODAY!
NOTE Passports are non-transferable. All sales are final. Patrons MUST arrive 20 minutes before showtime to be guaranteed a seat!
Friday, Jan 26
I WAKE UP SCREAMING 7:30
AMONG THE LIVING 9:30
Saturday, Jan 27, Matinée
THIS GUN FOR HIRE 1:00, 5:00
QUIET PLEASE, MURDER 3:00
Saturday, Jan 27, Evening
SHADOW OF A DOUBT 7:30
ADDRESS UNKNOWN 9:40
Sunday, Jan 28
DESTINY 1:00, 4:10, 9:20
FLESH AND FANTASY 2:20, 7:30
Monday, Jan 29
Tuesday, Jan 30
THE BLUE DAHLIA 7:30
NIGHT EDITOR 9:30
Wednesday, Jan 31
Thursday, Feb 1
Friday, Feb 2
Saturday, Feb 3, Matinée

Saturday, Feb 3, Evening
Sunday, Feb 4
BOOK SIGNING: A panel of NOIR CITY e-magazine contributors will be signing copies of the new 2018 NOIR CITY Annual 10 on Saturday, January 27. Alan K. Rode will be signing copies of his new biography, Michael Curtiz: A Life in Film, following his presentation of Curtiz' The Unsuspected on Wednesday, January 31. On Saturday night, February 3, veteran local photographer Fred Lyon will be signing his book, San Francisco Noir, a collection that captures the noir spirit of the City by the Bay.
2018 NOIR CITY Accomodations • Hotel Rex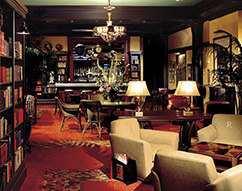 If you're an out-of-towner looking for lodging in the City, or a local wanting to turn a night at the festival into an easy getaway, our friends at the Hotel Rex are offering a 20% discount off regular room rates for festival guests during NOIR CITY 16, January 26–February 4, 2018. Located in Union Square at 562 Sutter between Mason and Powell, you can get to the festival's Castro Theatre in about 20 minutes via MUNI underground, street car, or cab. Amenities at the Hotel Rex include Wi-Fi, upgraded to 100 MB, and flat-screen TVs with iPod docks in every room as well as a complimentary glass of wine from 5:00-6:00 each evening. For something special, treat yourself to the hotel's lovely Library Bar offering handcrafted cocktails and a menu of American classics. A daily "amenity fee" of $21 will be added automatically to each day's listed room rate.
BOOK HERE for your special festival rate.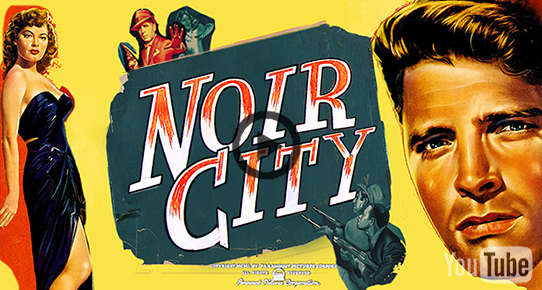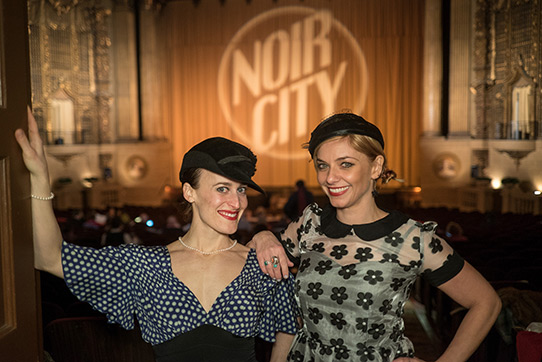 Surround yourself in a miasma of social media darkness: join us on Facebook, Tumblr and Twitter for a complete immersion in the world of film noir through film stills, posters, film clips, brilliant insights, and more. Maybe you'll meet a dangerous stranger along the way.