Join us Wednesday, December 18, at 7:30 pm, for a special evening of yule cruelty, as the Film Noir Foundation presents a dark holiday classic from south of the border—and reveals the entire schedule for NOIR CITY INTERNATIONAL II, a program of noir from around the globe, coming January 24–February 2, 2020 to the majestic Castro Theatre.
LA OTRA /
THE OTHER
Dolores del Río, one of the most beautiful actresses of all-time, stars in this noir-laden thriller as identical twins: María, a manicurist who lives in near-poverty, and her sister Magdalena, who married the wealthy man María once loved. When the estranged sisters reunite at the funeral of Magdalena's husband, María can't help but imagine how different life would be if she could only trade places with her sister. Uh-oh. Take a guess where this is headed. Co-starring José Baviera, Agustín Irusta, and Victor Junco, with extraordinary cinematography by the great Alex Phillips.
Del Río enjoyed a successful career in Hollywood during the 1920s and '30s, before she returned to her native Mexico in the '40s to claim her place as one of the nation's most renowned stars. La Otra is the first feature made under her own production banner, Mercurio. The film was also the initial collaboration between director Gavaldón and writer-activist José Revueltas, who would make 11 more films together, becoming arguably the preeminent filmmaking team in Mexico.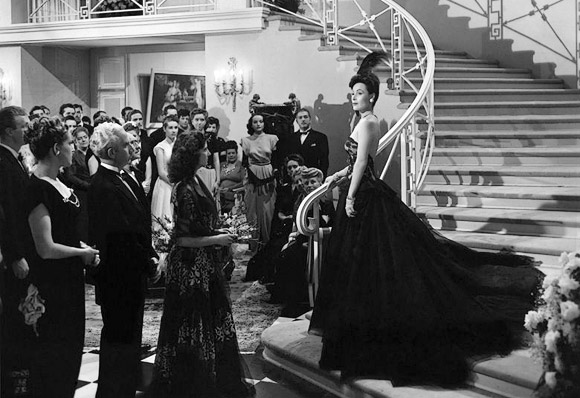 Enjoy this hot-blooded noir appetizer in anticipation of the full-blown feast of international noir coming January 24–February 2, 2020 … NOIR CITY 18!
In Spanish; DCP with English subtitles
1946, Mexico. Producciones Mercurio. 96 minutes. Story: Rian James and Roberto Gavaldón, adapted by Jack Wagner; Screenplay: José Revueltas; Director: Roberto Gavaldón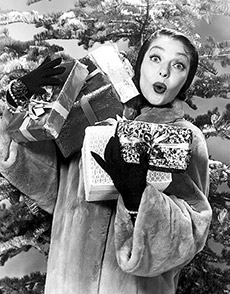 HOLIDAY GIVING AT NOIR CITY XMAS
Here's your chance to prove it's not such a bitter little world after all! At this year's NOIR CITY Xmas, we will have collection bins at the event for both the San Francisco Firefighters Toy Program and the COTS food bank, and we encourage everyone to give what they can.
The San Francisco Firefighters are looking for toys for kids, infants through 12 years old. Toys must be not be gift wrapped. The COTS food bank needs the following: peanut butter, low-sugar cereal, whole-grain rice, pasta, oats, low-sodium soups and stews, tuna and other canned meats, and canned fruits and vegetables. Please no glass, opened items, perishables, or items past their "use before" date. Thank you in advance for any contributions you can make of toys (including books) or food.
DESTINATION: NOIR CITY 2020
Save the date! NOIR CITY returns to its home at San Francisco's historic Castro Theatre for its 18th edition, January 24–February 2, 2020. The full line-up will be announced at our NOIR CITY Xmas show, December 18 at the Castro.
Can't make it to the Castro for NOIR CITY Xmas? Don't shout, don't cry—the schedule, program notes, and both single tickets and Passports (all access festival passes) will all be available the same night on this website.
NOIR CITY 18 Passport Now on Sale!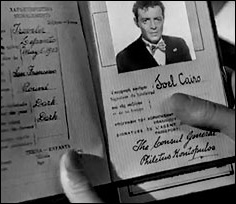 Secure your spot for all the fun with an all-access NOIR CITY 18 PASSPORT for $125 — now on sale! This all-access festival pass grants the bearer:
✽ Entry to all films during NOIR CITY 18
✽ Separate passport holders' queue for early admittance to the theater for all shows
✽ Opening night passholders' reception (Castro Theatre mezzanine) beginning at 6 pm on Jan. 24
Proceeds from the NOIR CITY festival help fund the FNF's restoration and preservation efforts year-round. This is your chance to have a smashing time AND preserve a valuable art form. The perfect holiday gift for the film lover in your family! → PURCHASE HERE
NOTE Passports are non-transferable. All sales are final. Patrons MUST arrive 20 minutes before showtime to be guaranteed a seat!

NOIR CITY 18 Accomodations - Beck's Motor Lodge
If you're an out-of-towner looking for lodging near the Castro Theatre, our friends at Beck's Motor Lodge are offering discounted room rates for festival guests during NOIR CITY 18. Beginning January 23 through February 2, 2020, you can get a room with a Queen bed for $169 plus tax, and for a room with 2 beds the cost is $189 plus tax.
Located at 2222 Market near the intersection of 15th and Sanchez, Beck's Motor Lodge is walking distance to the Castro Theatre. While the exterior of the iconic mid-century motel (built in 1958) hasn't changed much over the years, the interior rooms have all been totally refurbished with new furniture and bathrooms, 32" flat screen televisions, refrigerators and coffee makers. Parking is still free, as is access to wi-fi.
MAKE YOUR RESERVATION: Call Beck's Motor Lodge at 415-621-8212 or email them at info@BecksMotorLodge.com to make your reservation. Important: Make sure you tell Beck's you're calling for the NOIR CITY 18 festival rate.
2019 NOIR CITY 17: Films and Fun Help Fund FNF Restorations
Celebrating its 17th year, NOIR CITY, the largest annual film noir festival in the world, returned to the majestic Castro Theatre January 25-February 3, 2019 for its most successful festival yet. Film Noir Foundation prez Eddie Muller took audiences on a deep dive into a turbulent and transitional time in American history, culture, and cinema, the 1950s.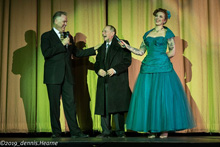 Opening night featured the world premiere of the FNF's latest 35mm restoration, Trapped—a 1949 noir from short-lived Eagle-Lion Films, starring Lloyd Bridges and scandal-plagued starlet Barbara Payton. A surprise guest appeared on stage with Muller after the screening. Mark Fleischer, the son of the film's director, Richard Fleischer shared some personal insights into his father's life and work.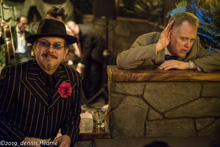 NOIR CITY patrons were also treated to an after-party at local bar Last Rites. This year's (and last year's) Ms. NOIR CITY Annabelle Zakaluk performed two sets of songs from the "Golden Age of Noir", accompanied by her usual partners in crime, Nick Rossi and Mikiya Matsuda. A portion of the proceeds of each Maker's Mark NOIR CITY cocktail special sold was donated to the FNF.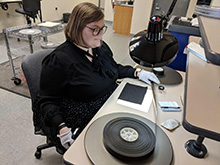 As he does every year at NOIR CITY, Muller announced the recipient of our $5,000 FNF-Nancy Mysel Legacy Grant : Janine Winfree of the L. Jeffrey Selznick School of Film Preservation/George Eastman Museum in Rochester, NY. A heart-felt acceptance video by Ms. Winfree screened for the appreciative San Francisco audience. The FNF's charitable grant, funded by the Mysel family in honor of the late film preservationist Nancy Mysel who supervised FNF restorations of The Prowler and Cry Danger, grants funding to students enrolled in film restoration and preservation studies.
As in year's past, all of this year's box office earnings will go towards the Film Noir Foundation's restorations efforts. According to FNF founder and president Eddie Muller, "NOIR CITY remains the only film festival in America in which 100% of the box office proceeds directly go to funding the restoration of films."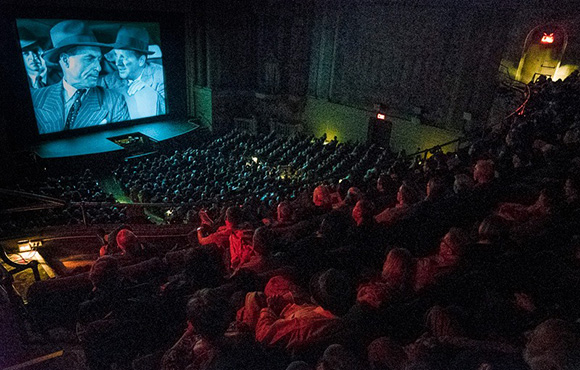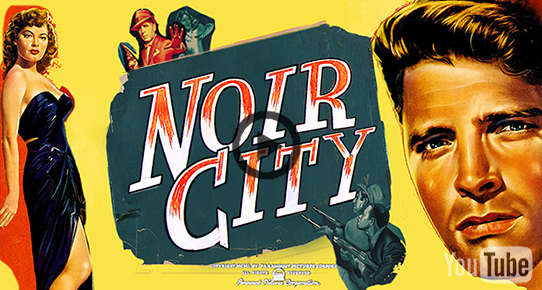 EXTRA! EXTRA! GET YOUR NOIR NEWS HERE!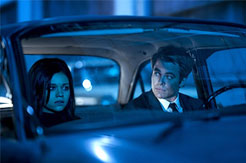 For the latest in noir news from small screen to big screen and beyond, visit our news area. We'll keep you updated on Film Noir Foundation projects and events, film festivals and noir-related happenings in other mediums on our news page, as well as noir and neo-noir titles released on DVD and Blu-ray. Our NOW PLAYING section will keep you up-to-date on noir-tinged entertainment in theatrical release or streaming. Learn about classic film noirs available for streaming from Sean Axmaker's monthly column, I Wake up Streaming. Check our monthly tv listings for noir and neo-noir films coming up on Turner Classic Movies.
FNF VIDEO ARCHIVE

Our Video Archives feature an expanding catalog of noir-related video, ranging from exclusive interviews, to festival guest appearances, to short films inspired by film noir.
LATEST ADD At the 2019 Arthur Lyons Film Noir Festival in Palm Springs, producer Alan K. Rode sat down with actress Jan Shepard to discuss her role as Elvis Presley's sister after a screening of the digitally restored King Creole (1958). After some adjustments were made to the stage lighting, Shepard unspooled several charming Elvis stories and discussed her early years in Hollywood with pals Marilyn Monroe and Amanda Blake. WATCH

Surround yourself in a miasma of social media darkness: join us on Facebook, Tumblr and Twitter for a complete immersion in the world of film noir through film stills, posters, film clips, brilliant insights, and more. Maybe you'll meet a dangerous stranger along the way.