NOIR CITY 17: Films and Fun Help Fund FNF Restorations
Celebrating its 17th year, NOIR CITY, the largest annual film noir festival in the world, returned to the majestic Castro Theatre January 25-February 3, 2019 for its most successful festival yet. Film Noir Foundation prez Eddie Muller took audiences on a deep dive into a turbulent and transitional time in American history, culture, and cinema, the 1950s.
This year's program extended last year's chronological pairings of "A" and "B" from the 1940s into the 1950s, offering viewers a slate of films that tracked noir through the declining studio system and into a fresh cinematic landscape where noir was refashioned, both subtly and radically, for a new generation.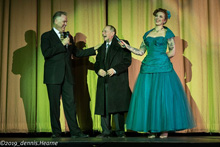 Opening Night, January 25, featured the world premiere of the FNF's latest 35mm restoration, Trapped—a 1949 noir from short-lived Eagle-Lion Films, starring Lloyd Bridges and scandal-plagued starlet Barbara Payton. A surprise guest appeared on stage with Muller after the screening. Mark Fleischer, the son of the film's director, Richard Fleischer shared some personal insights into his father's life and work.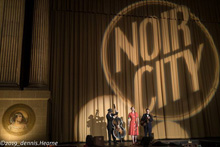 In addition to presenting 24 classic films, NOIR CITY also offered up live musical performances, nightly on-stage trivia games and two parties. Prior to the opening night screening, Passport (full series) holders were treated to an opening night reception including food, music and the chance to have their photo taken with FNF prez and NOIR ALLEY host Eddie Muller, courtesy of Turner Movie Classics who provided a special NOIR ALLEY backdrop and a photographer.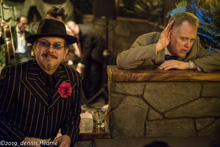 On Monday, January 28, NOIR CITY patrons were treated to an after-party at local bar Last Rites. This year's (and last year's) Ms. NOIR CITY Annabelle Zakaluk performed two sets of songs from the "Golden Age of Noir", accompanied by her usual partners in crime, Nick Rossi and Mikiya Matsuda. A portion of the proceeds of each Maker's Mark NOIR CITY cocktail special sold was donated to the FNF.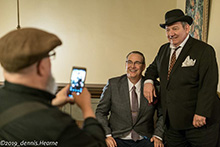 On Wednesday, January 30, FNF board member Alan K. Rode signed copies of his book Michael Curtiz: A Life in Film on the mezzanine of the Castro Theatre. He also introduced that night's screening of Curtiz's The Scarlet Hour (1956), which played on a double bill with another '56 film A Kiss Before Dying, directed by Gerd Oswald.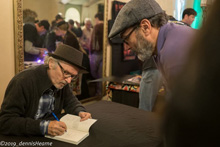 The following night, Thursday, January 31, Philippe Garnier signed his biography Goodis: A Life in Black and White, also on the Castro mezzanine. That night's 1957 double bill honored the subject of Garnier's book, pulp writer David Goodis: Jacques Tourneur's Nightfall based on Goodis' novel and the author's screenplay adaption of his own book, The Burglar, directed by Paul Wendkos.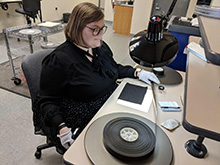 Saturday night, February 2, Muller announced the this year's $5,000 FNF-Nancy Mysel Legacy Grant winner: Janine Winfree of the L. Jeffrey Selznick School of Film Preservation/George Eastman Museum in Rochester, NY. A heart-felt acceptance video by Ms. Winfree screened for the appreciative San Francisco audience. The FNF's charitable grant, funded by the Mysel family in honor of the late film preservationist Nancy Mysel who supervised FNF restorations of The Prowler and Cry Danger, grants funding to students enrolled in film restoration and preservation studies.
As in year's past, all of this year's box office earnings will go towards the Film Noir Foundation's restorations efforts. According to FNF founder and president Eddie Muller, "NOIR CITY remains the only film festival in America in which 100% of the box office proceeds directly go to funding the restoration of films."
Couldn't make it to San Francisco for the festival? Don't worry, NOIR CITY will take its show on the road with satellite festivals in Seattle, Hollywood, Austin, Boston, Chicago, Detroit and Washington D.C. You'll have a wonderful time and help to support the FNF's restoration efforts.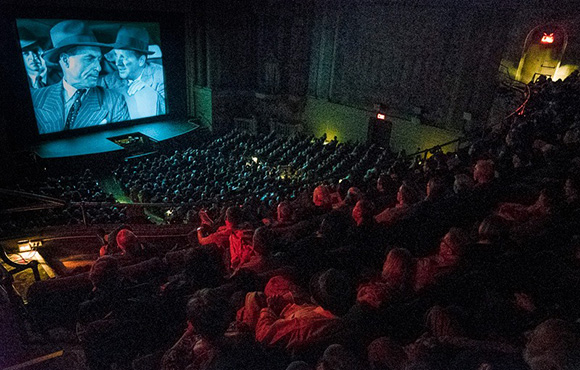 Friday, Jan 25
1950
Saturday, Jan 26, Matinée
1951
Saturday, Jan 26, Evening
1952
Sunday, Jan 27
1953
Monday, Jan 28
1954
Tuesday, Jan 29
1955
Wednesday, Jan 30
1956
Thursday, January 31
1957
Friday, Feb 1
1958
Saturday, Feb 2, Matinée
1959
Saturday, Feb 2, Evening
1960
Sunday, Feb 3
1961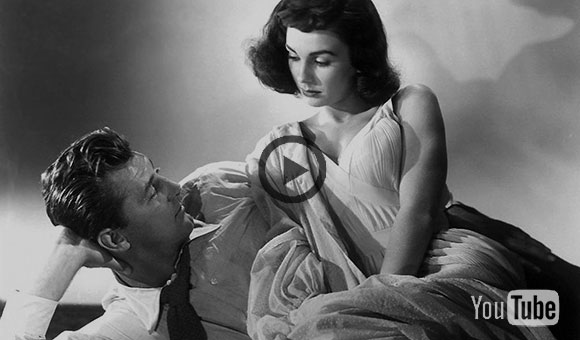 Surround yourself in a miasma of social media darkness: join us on Facebook, Tumblr and Twitter for a complete immersion in the world of film noir through film stills, posters, film clips, brilliant insights, and more. Maybe you'll meet a dangerous stranger along the way.